Rhenish Stoneware
Rhenish Stoneware
Type: Blue, gray stoneware
Date range: c.1650-1775
Median date: c.1713
Place of origin: Rhine Valley, Germany and France
Rhenish stoneware has a gray or blue-gray fabric. During the 17th century, this was the most durable pottery available in Europe. The decoration was usually either manganese purple or cobalt blue, in various designs. Until the end of the 18th century, the Rhenish potters did not use slip-cast moulds, which makes this ware different from many others.
Wares produced in the Westerwald district were characterized by elaborate floral and geometric designs in a combination of sprig moulding and combed lines. Moulded flowers would be applied and the stalks and leaves scratched or combed into the body.
In the early 18th century, a common decoration was stamped and incised (outlined in blue) around a central moulded medallion. The medallion contained the cipher of the English monarch beneath a crown and over a winged cherub. The cipher was usually either AR for Queen Anne (1702-1714) or GR for George I (1714-1727) or George II (1727-1760).
The three main vessel forms were reeded-necked jugs with the medallions, cylindrical tankards with smaller medallions, and chamber pots. Rhenish stoneware was not blocked by the embargo on "painted wares" in 1672, so export to England, and from there to the colonies, was never stopped.
See Noel Hume 1976: 19, 276-283, and South 1977: 210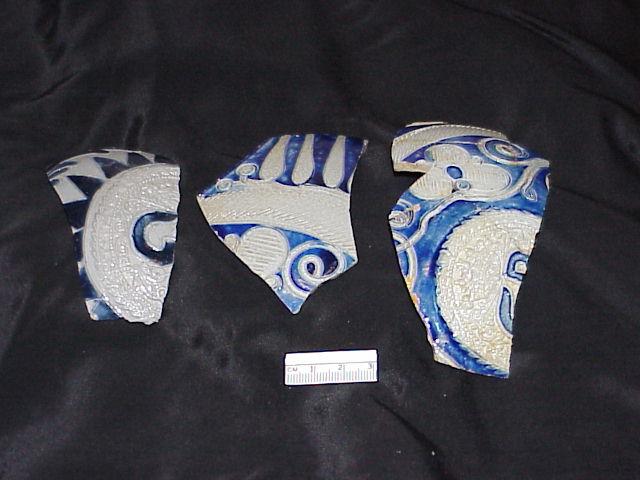 Faculty of Arts
Department of Anthropology
902-496-8109
Mailing address:
McNally South 218
923 Robie Street
Halifax, NS B3H 3C3