Dyed Earthenware
Dyed Earthenware
Type: Refined earthenware
Date range: c. late 19th century to present
Place of origin: England, North America, the Orient
A refined white earthenware dyed with metallic oxides. The colours created by this dying process include blue, green, pink, grey, and yellow (the yellow is known as "Ivory" ware). (Note that yellow dyed earthenware is not the same as what is known as Yellow Ware.)
The glaze for this ware was clear, to allow the colour of the fabric to show through.
The decoration of this ware is varied, including moulded relief, underglaze painting, overglaze painting, underglaze printing, lithograph, lustre and gilding.
Common vessel forms include tablewares and pitchers.
The ware was produced from 1878 to 1893 in Canada, and the late 19th century to present elsewhere.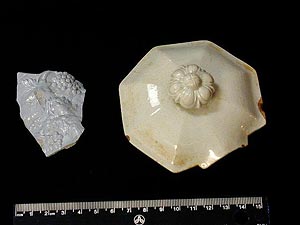 Left: Blue relief moulded dyed earthenware sherd
Right: Greenish blue moulded dyed earthenware teapot top
Faculty of Arts
Department of Anthropology
902-496-8109
Mailing address:
McNally South 218
923 Robie Street
Halifax, NS B3H 3C3