Creamware
Creamware
Type: Refined earthenware
Date range: c.1762-1820
Median date: c.1773
Place of origin: England
Creamware was developed by Josiah Wedgewood in 1762. It was later dubbed "Queen's ware," but it is now known simply as creamware or "Leeds ware." The earlier pieces are a deeper yellow than later examples, and the difference is significant after c.1780. The creamware lead glaze appears yellow or green in crevices on ceramic vessels. Creamware was one of the most common tablewares in the second half of the 18th century, and was used for a variety of vessel types. Decorative techniques include edged wares, hand-painted and transfer-printed. Plain wares were also common.
Feather-edge
In 1765, Wedgewood developed a new rim design using relief-moulded fronds. The new rim pattern was termed "feather-edged." The pattern was produced at the same time in white salt-glaze stoneware.
See Noel Hume 1976: 124-125, and South 1977: 212
Royal Pattern
The Royal pattern developed out of the older salt-glaze "barley" pattern with the barley omitted. In 1762, Wedgewood is said to have presented a breakfast set to Queen Charlotte (Queen's shape). Shortly later, the raised ridges that crossed the rim were omitted and the style became known as the Royal pattern.
See Noel Hume 1976: 124-125, 130; and South 1977: 212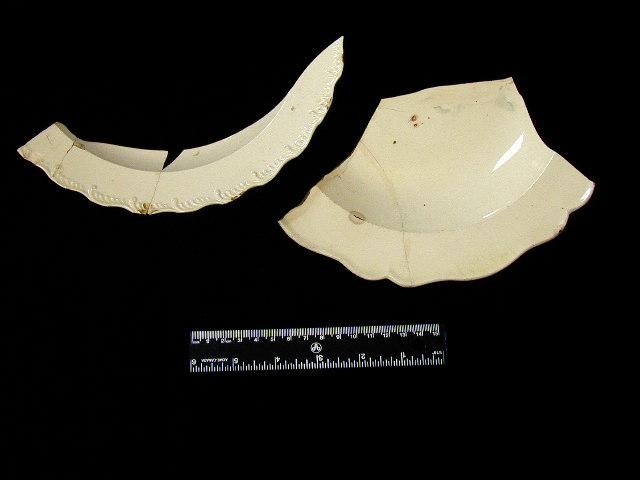 Left: Feather edge creamware plate
Right: Royal pattern creamware plate
Faculty of Arts
Department of Anthropology
902-496-8109
Mailing address:
McNally South 218
923 Robie Street
Halifax, NS B3H 3C3