Resources
Resources
Emergencies
University Security Emergency Line (24 hours)

902-420-5000

Residence Services Front Desk (24 hours)

902-420-5591

Emergency Police & Fire

911

QEII Emergency Department

Located on 1799 Robie Street

IWK Emergency Department
For children and youth who are ill or injured up to their 16th birthday and children and youth with mental health care needs up to their 19th birthday.

Located on South St. (near Robie St.)

Non-emergencies
Good2Talk

Free, Confidential, 24/7 Phone counselling service

1-833-292-3698

Crisis Text Line Powered by Kid's Help Phone

Free, Confidential, 24/7 Phone counselling service

Just text "Good2TalkNS" to

686868

to be connected to a volunteer-supporter from the privacy of your phone.

Mental Health Mobile Crisis Team (24 hours Crisis Support via Phone)

902-429-8167

or 1-888-429-8167(toll free)

The Counselling Centre (Sept – May 8:30am-4:30pm:June – Aug 8:30am-4pm: Closed 12-1pm)

902-420-5615 or

counselling@smu.ca

(virtual appointments by telephone or video currently available)

The Student Health Services (Fall/Winter/Spring Semesters 9am-4:30pm: Summer Semester 9am-4pm: Closed 12:30-1:30pm)

902-420-5611

Family Focus (After-Hours)

Avalon Sexual Assault Centre (8:30am-4:30pm; closed 12:30-1:30pm)
*Due to Covid-19 we recommend checking the Avalon website regarding their current procedures*

902-422-4240

Sexual Assault Nurse Examiner (SANE) 24-hour Response Line

902-425-0122
TAO

Therapy Assistance Online (TAO) is an e-mental health resource that can be accessed at: http://thepath-ca.taoconnect.org (go to My pathways)
Healthy Minds NS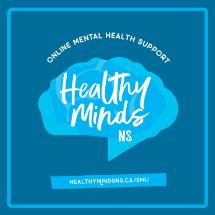 Saint Mary's University currently offers three services through HealthyMindsNS: TAO, Crisis Text Line, and Good2Talk.
Mental Health Advocates
The Counselling Centre has developed an online program to learn more about a variety of mental health related subjects. The Mental Health Advocates program also offers co-curricular hours, which can be awarded after 10 or more modules are completed.
Healthy Minds App
Information on App: https://www.theroyal.ca/resource-library/healthy-minds-app.
Healthy Minds is now available for free for iPhone, iPad, iPad mini and iPod Touch through the App Store or through healthymindsapp.ca and difd.com.
Transitions Booklet
Transitions is a free mental health booklet. To view the booklet please click the link http://teenmentalhealth.org/product/transitions/ .
Other Counselling Initiatives
The Counselling Centre has various mental health initiatives we have developed which include: How to Identify and Refer a Student in Distress, and SMU Talks for Faculty and Staff.
Find a listing of resources available to you online free of charge on many different topics including Healthy Relationships, Self Esteem and Stress.
The Counselling Centre houses over 300 books available for students, faculty and staff to borrow on topics such as Anger, Anxiety/Panic/Phobias and Health & Wellbeing. Feel free to stop by The Counselling Centre to see the collection and borrow a book. You don't have to be a client of ours to do so.
Mental Health Roadmap
A listing of on and off campus resources for Saint Mary's University students.