Why study Geology?
Study volcanoes in Italy, spend a week on the Antigonish highlands with the geology field school or take part in an international collaboration with geologists from Mongolia as part of our exchange program; the Geology program at Saint Mary's offers these opportunities and more.
Geology is the study of the Earth, its components and the processes that affect it. Geologists seek to understand the Earth and its physical, chemical and biological evolution. Geologists can choose from an incredibly diverse range of careers, including mineral and hydrocarbon exploration, engineering and environmental consulting, volcanology, seismology and other geologic, process-based research. They often divide their time among work in the field, the lab and the office.
---
The Saint Mary's approach
This valuable degree offers students state-of-the-art laboratories, world-renowned professors, a co-op option and an atmosphere that supports undergraduate research. Students can graduate with a Geology Major or Honours, or with a Double Major or Honours with either Geography or Business Studies.
---
Hands-on learning
This program is as hands-on as it gets, with about 50% of the degree taught in labs or in the field. As an undergrad, you'll be actively involved in research in areas like economic geology, archaeological geology, as well as igneous, metamorphic and sedimentary geology. One particular strength of the program is its emphasis on student research. Our undergraduate students have presented their research internationally.
Sample courses offered:
Understanding the Earth
The Dynamic Earth
Global Change
Field Methods
International Field School
Optical Mineralogy
Igneous Petrology
---
Future career opportunities
The Geology Department has one of the highest job placement rates for undergraduate students on campus. Many Geology majors are hired in the summers while enrolled at Saint Mary's, and most are either hired in a geology-related field or go on to graduate studies within six months of graduation.
Career options for geology majors:
Exploration geologist
Petroleum geologist
Mapping geologist
Marine geoscientist
Geochemist
Economic mineralogist
Hydrogeologist (groundwater resources)
Volcanologist
---
What our professors are saying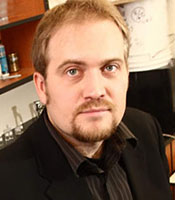 "Geology majors at Saint Mary's University have access to world-class collections for their laboratory courses, gain valuable hands-on experience with state-of-the-art geological tools unique to the region and participate in applied research with faculty and industry."
- Dr. Jacob Hanley, Geology Professor
---