Indigenous Students
Pjila'si (Welcome) Indigenous Students
Saint Mary's is in Mi'kma'ki, the ancestral and unceded territory of the Mi'kmaq People (L'nuk). This territory is covered by the Treaties of Peace and Friendship, which Mi'kmaq and Wolastoqiyik Peoples first signed with the British Crown in 1725. The Treaties did not deal with surrender of lands and resources but in fact, recognized Mi'kmaq and Wolastoqiyik title and established the rules for what was to be an ongoing relationship between nations. In particular, Saint Mary's is stood in Halifax, NS, which is traditionally known as Kjipuktuk (the Great Harbour) in L'nui'suti, the native language of the L'nu.
Pjila'si (ip-juh-lah-see or juh-lah-see) is the Mi'kmaw word for welcome. What it literally means is to come in and take your place, as in we all have a place in the world, or in the circle, where we are meant to be.

For more Mi'kmaw language learning, check out L'nui'suti by Mi'kmaw Kina'matnewey on the App Store.
Indigenous Student Supports
Meet Elder Debbie Eisan from Batchewana First Nation
Anishinaabe-kwe of Batchewana First Nation, Elder Debbie Eisan, pictured right, is a resourceful community Elder in the urban Indigenous community in Halifax as she is an Elder-in-Residence at the local Mi'kmaw Native Friendship Centre. Elder Debbie works closely in collaborative efforts with SMU in Student Services and the Indigenous community on campus to support students embarking on their post-secondary journey to create a sense of home away from home.
Meet our Indigenous Student Advisor
Our Indigenous Student Advisor supports and engages Indigenous students at Saint Mary's University. They develop programming and services for Indigenous students, make connections to facilitate the transition to university, and develop Indigenous-specific programming to engage students in campus life throughout their academic careers.
Brady Paul
Wolastoqiyik "people of the beautiful river"
Skicinuwi Ekehkimut Mihkukemit
Indigenous Student Advisor | Student Affairs and Services
Burke Building, 1st Floor, Room 114
Saint Mary's University
Meet our Indigenous Student Initiatives Coordinator
Rachel Creaser (she/her)
Rachel is Mi'kmaw from Wolfville, Nova Scotia, and is a member of Acadia First Nation. Rachel is a current full-time student studying Social Justice Community Studies and Indigenous Studies, and the current President of the SMU Indigenous Student Society.
While Rachel isn't in class, you can find her in the Burke building helping Brady Paul, the Indigenous Student Advisor, with Indigenous Student Services initiatives, or organizing events for the Indigenous Student Society. Rachel is responsible for bringing forward new initiatives to improve the current Indigenous student experience at Saint Mary's and advocating for Indigenous voices on campus.
If you're looking to collaborate with Indigenous Student Services, have ideas to improve the campus experience for Indigenous students, or want to get involved with the society, contact Rachel at Rachel.creaser@smu.ca.
Meet our Indigenous Student Wellness Ambassador
Keegan Skye (she/her)
Keegan Skye (she/her) of Acadia First Nation is the Indigenous Student Wellness Ambassador at SMU. Keegan is a current student at SMU studying Social Justice Community Studies, and is working as part of the team of ambassadors with the Counselling Centre.
Keegan works to bring peer-to-peer mental and spiritual health supports to fellow Indigenous SMUdents and holds culturally relevant workshops on campus to offer healing resources.
Reach out to Keegan at indigenous.wellness@smu.ca for support!
Meet our Indigenous Student Ambassador
Kaylee Denny (she/her)
Kw'e! Ni'n teluisi Kaylee Denny (she/her) and I am a second-year Indigenous student at Saint Mary's, pursuing a degree in Bachelor of Science majoring in Biology. I grew up on the beautiful island of Unama'ki — and live in a Mi'kmaw community called Eskasoni. Growing up in Eskasoni has taught me many things, and being fluent in the Mi'kmaq language, I attended Eskasoni's Mi'kmaq immersion which gave me a better understanding of my Mi'kmaq language from a young age. I am very passionate about helping others, especially my Indigenous people. I am proud to be a young Mi'kmaq woman and am excited for this role as the Indigenous Student ambassador at SMU! Wela'lioq.
Contact Kaylee isa@smu.ca or book a virtual meeting.
Community
Indigenous Student Society (SMUISS)
Our goal as a society is to enhance the experience for Indigenous students at Saint Mary's University. Creating a sense of community for Indigenous folks on campus where students can have a safe space to share experiences, stories, knowledge, concerns, and ideas with one another. Meet fellow Indigenous SMUdents and make some new friends! Every Indigenous-identifying student is welcome at SMUISS.
Check out our Instagram page @smuindigenoussociety or contact us at smuindigenousstudents@gmail.co
Indigenous Student Lounge
The Indigenous Student Lounge is a common space for Indigenous students to connect with one another. Drop in to plan an event, study, craft, play board games, or hang out with friends!
An access code is required to access the lounge.
Please contact Rachel or Brady if you're looking for access.
Located in Burke 113. Open during campus hours
Financial Aid and Awards
Post-Care Tuition Waiver Program
The Saint Mary's University Post-Care Tuition Waiver Program supports individuals who have lived in care in the Nova Scotia child welfare system – including Mi'kmaw Family and Children's Services of Nova Scotia – or have been in receipt of the Department of Community Services' Youth Services Program. This bursary covers up to 100% of tuition and mandatory course fees for those selected and is renewable for the duration of the student's first post-secondary program, provided they maintain good academic standing. The deadline to apply is May 1.
Loretta Saunders Community Scholarship Fund
Indigenous women from Mi'kma'ki, Nunatsiavut, or Atlantic Canada who are attending a post-secondary institution in Canada and who have completed the equivalent of one year of post-secondary education in the previous two years are invited to apply. Apply by July 30.
Indspire Funding
Indspire is an external organization that supports Indigenous students on their educational journeys. Indspire has a resource list of external awards for Indigenous students that is consistently updated. Find out more at www.indspirefunding.ca
Application deadlines are February 1, August 1 and November 1 of each year.
Indigenous Bursary Search Tool
The Indigenous Bursaries Search Tool is a searchable list of 520 bursaries, scholarships and incentives aimed at Indigenous students across Canada. Search for a bursary now.
---
Additional Indigenous Student Resources
Indigenous Visiting Fellow
Ryan Francis, the university's first Indigenous Visiting Fellow, completed a two-year fellowship with the Faculty of Arts and the Centre for the Study of Sport and Health (CSSH). Part of the fellowship includes working with Saint Mary's and organizers of the North American Indigenous Games, postponed in 2020 but now scheduled to take place July 15-23, 2023 in several locations in Kjipuktuk (Halifax) and Millbrook First Nation.
---
Service-Learning Partnerships
Working directly with Jim Hepworth BComm'95, CEO, The Confederacy of Mainland Mi'Kmaq (CMM) Development Corporation, SMU students enrolled in the Sobey School of Business MBA Responsible Leadership course are working in the partnership with CMM on five Service Learning Projects of value to the organization. These consulting projects give our students great opportunities to apply their knowledge and skills while helping to advance CMM's mission.
---
Indigenous Community
Please visit our Indigenous Community Website to learn more about the Indigenous community engagement and environment at Saint Mary's University, including our welcome to new students, Wisqaptmumk Saint Mary's, and for more information about event news and events.
Find out more
Indigenous SMU Alumni Success Stories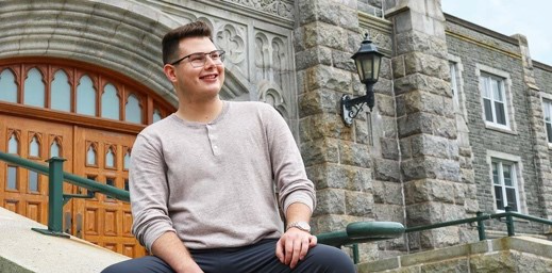 Mi'kmaw Student Leader, Kyle Cook of Qalipu First Nation, Strives to Foster Truth and Reconciliation Year Round
Cook grew up in a Mi'kmaw community near St. George's, on the rural southwest coast of Newfoundland and Labrador. In his newly created position with SMUSA, one of his priorities is collaborating with other Indigenous students and staff to advocate for the creation of things like the Community Drum on campus. Kyle, along with other community members, proposed and introduced the SMU Community Drum in December 2021.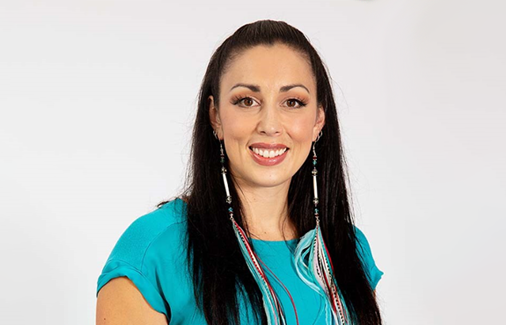 Jesse Benjamin
Jesse Benjamin graduated from SMU with a Bachelor of Science. She is a mother of four, a personal trainer, a veterinarian, fancy shawl dancer, and Mi'kmaq artisan. She is the founder of Two Eyed Wellness, helping Indigenous people reclaim their health and holistic wellness through fitness and nutrition programs that combine modern knowledge with traditional Indigenous knowledge and values. Jesse also works at the Mi'kmaq Native Friendship Centre as the Active Living Community Coordinator. She loves animals, fitness, education, and empowering others to be their true authentic selves and pursue their passion.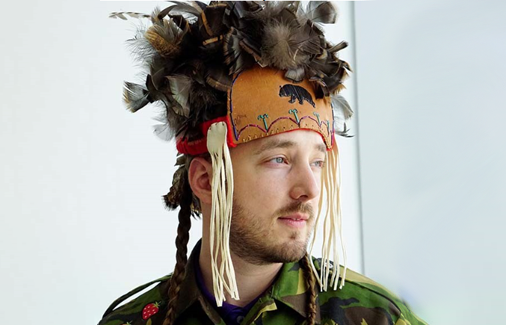 Michael Maracle-Polak
Michael is a SMU Husky Alumnus, with a degree in Commerce followed by a Masters of Innovation from Queens University.

Michael is also known as Ken'niwahkwahrita:a (Little Dipper) and is Mohawk, Bear Clan. His current roles include Portfolio Manager Atlantic, Media & Entertainment and National Chair, Royal Eagles Indigenous Community at RBC; Co-Chair, Indigenous Centre for Innovation & Entrepreneurship for the City of Toronto and President, Akwekon Enterprises.