Karate
Saint Mary's University Shotokan Karate Club
About the Club
Classes with the SMU Karate Club have been put on hold as a result of the COVID-19 pandemic. We will update this page when classes resume.

The ultimate aim of the art of Karate lies not in victory or defeat, but in the perfection of the characters of its participants.

The SMU Karate club has been active on campus since 2005 and is currently a member dojo of Karate Nova Scotia which adheres to the standards of Sport Nova Scotia.
---
Contact the SMU Karate Club
Or send us a message:
---
Practice Times
Check out the SMU Karate Club Website for more information and details on the club.
Beginners/New Members 2019-2020:
Next Beginner Class Starts January 14, 2020
Tuesday and Thursday 6:00 - 7:00 pm.
(Community room of the Homburg Centre)
Please note: For beginners when you come to class wear comfortable clothing that you can move freely in such as sweatpants and a t-shirt. We also practice in bare feet and do not allow watches or jewelry of any sort to be worn during classes (this includes finger rings, ear rings, facial piercings of any sort etc.)
---
Advanced Members:
Advanced Class Starts January 9, 2020
Tuesday and Thursday 7:00 - 8:00 pm.
(Community room of the Homburg Centre)
---
"Practice does not make perfect. Only perfect practice makes perfect."
~ Vince Lombardi Jr.
Instructors
The Saint Mary's dojo is headed by volunteer instructor Sensei Shannon Doane, 5th degree black belt and an employee of the Saint Mary's University IT department. Sensei Shannon has extensive competitive experience and has participated in provincial, national and international level tournaments in both individual and team divisions. She began competing as a member of the Nova Scotia women's provincial kata and kumite teams in 1999, and started captaining the teams in 2004. Sensei Shannon has been instructing at the SMU dojo since 2010.
On occasion the SMU club will also have guest instructors come in to teach classes so students will gain insight from different teaching perspectives.


The club also obtains support from the Athletic and Recreation Department through Sandra Jamieson, Coordinator of Programs.
---
"The ultimate aim of karate lies not in victory nor defeat, but in the perfection of the character of its participants"
~ Gichin Funakoshi
What is Karate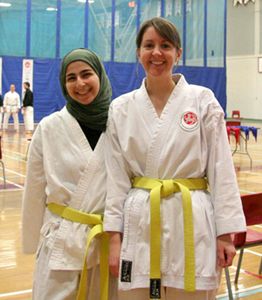 In its most simplistic definition, karate is a Japanese martial art that was developed to facilitate unarmed self-defense and combat where the arms and legs are used to perform strikes, punches and blocks. At its heart though karate is much more than a simple form of self-defense or fighting, and many of its practitioners come to view it as a way of life. The founder of modern karate, Master Funakoshi, said that karate "should be simple enough to be practiced without undue difficulty by everybody, young and old, boys and girls, men and women."
We practice the "Shotokan" style of karate developed by Master Gichin Funakoshi and Master Masatoshi Nakayama, the founders of modern day karate.
Class Structure:
Shotokan karate classes are varied and interesting and are generally comprised of three parts:
Basics (kihon)
Basics or kihon are where a student learns the basic strikes, punches, blocks, stances and kicks that make up karate practice.
Kata
Kata are pre-arranged combinations of movements against potential opponents that may be performed slowly in a relaxed state, or with speed and intensity allowing for a complete physical workout. Kata help develop balance, strength, speed and coordination.
Kumite (Sparring)
Kumite (sparring) in karate ranges from beginner level pre-arranged combinations designed to teach the student control and accuracy, to free sparring where students are able to perform any number of combinations of attack and defense against their opponent. Sparring at all levels is non-contact where discipline and control are exercised at all times.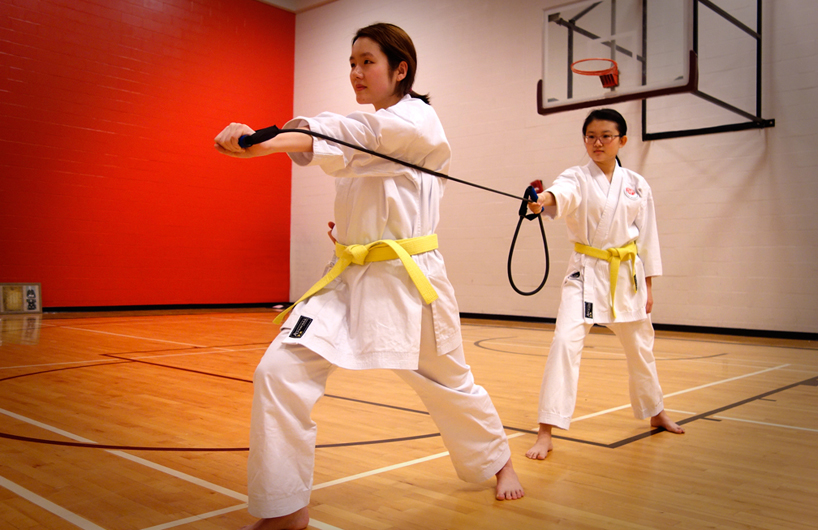 ---
Costs
Per Term (4 months):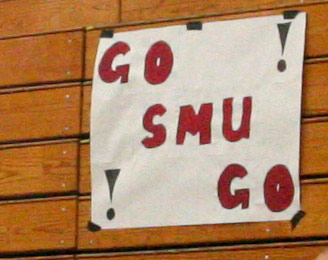 Full Time Saint Mary's University Students & SMUfit members:
$40 dojo dues. (Must be 16+ years of age to register)
Part Time Saint Mary's Students, Community Members, Students from other Universities, Colleges and Schools: $90 (Must be 16+ years of age to register)
Uniforms (gis) and grading fees.
Uniforms (gis): $75 (taxes included) for beginner level gi and includes your white belt and color belt exchanges. Students may purchase a gi outside of the club as long as it is an approved, white karate uniform.
Grading / Clinic / Tournament fees are dependant upon the event.
---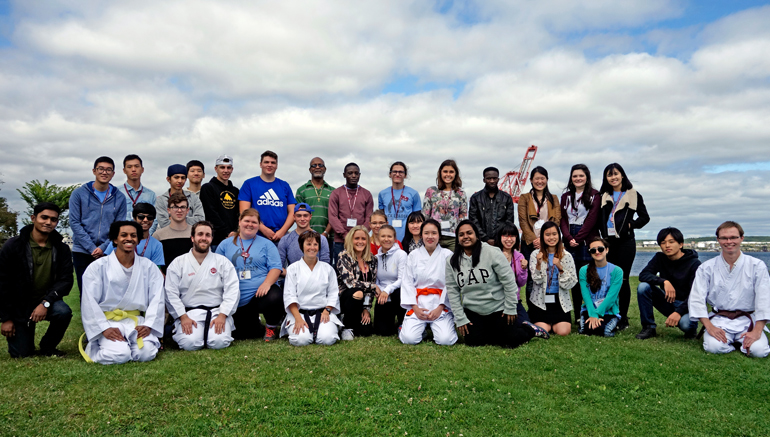 Healthy Start at the Park with the SMU Karate Club - 2017
Please activate your student SMUfit membership pass (forms below) in order to belong to a Sport Club team.