Graduate Career Services

Our Mission
Sobey Graduate Student Career Services positively impacts the lives of our students and our communities by supporting them in securing meaningful careers that contribute to the economic fabric of our society.
Our Vision
Helping every student build their future in our changing world.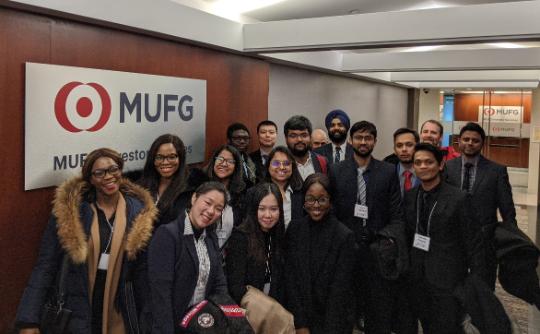 Upcoming Events
Feature Story
Corporate Tour Reflections
"I am glad I did not just get the answer I expected"
I have a tendency to set expectations of myself before doing important tasks. Prior to participating on the Halifax corporate tour on March 9th, I thought I would learn how easy it is to find a job, on the contrary, the tour acquainted me with how complex and rewarding it can be to get the right job that you love. This unexpected answer is a realization I was grateful to receive.
What impressed me the most, when sitting the in boardroom of offices downtown Halifax, was the scenery from the office windows. It was a cloudy day, the grayish blue and gray clouds sewed into a beautiful pattern, sunlight pierced the thin clouds like root gold, arranged in an intersected pattern.
The view from the high building was so beautiful, not only did it calm me down, but it also made me see the destination and goal in my career that I want to achieve. I began to think about how long it would take to earn a position from an entry level position to upper management (or even higher). Employers confirmed there is a broad range of opportunities you can receive, especially right now in Atlantic Canada, this diversity of experience indeed will offer new graduates several years to occupy in their company. Therefore, my first harvesting moment of truth was: the road ahead for my career will be a long climb, it will be steep, and I may not where I want to be in one year, five years or maybe even ten years; therefore, the journey will require continuous learning and to be open minded to all possibilities. I realized we must be open to continuous learning as it is essential for our journey.
Advice one successful employee shared was how important it is to read every day, stay current with business news locally and globally. Before going on the corporate tour, I worried that my future career will eventually make me feel numb and bored through daily routine and work. This worry has since been replaced with motivation and excitement since participating in the tour because I found that there are many new challenges waiting for me which can bring me a sense of achievement.
Another tremendous benefit in participating in the tour is that it taught me to seek more possibilities. Before participating in the tour, I thought the commercial bank was the best and the only choice for me. However, Rachael Pascall's (MUFG's Manager) presentation inspired me to open my mind. I became more curious and want to know more about financial service company and realized this is also a good place to start. Scott Eastabrooks VP of Commercial Banking at RBC, helped me realize reaching a high position (such as Senior Vice President) may require lattice movement in your career which will give you a broad perspective of your industry and will help you become a better leader and manager. This helped me see the intersected patterns you can create in your career when you open your mind to them. All in all, step after step the trail is ascending.
Furthermore, through the conversations, I realized interests and hobbies which may appear as irrelevant to the profession are also useful in daily work. For example, creative writing helps to strengthen communication for publications and email correspondence; involvement in various sports teams helps to demonstrate how you can work together to achieve common goals.
Through a day's journey, I picked up a great deal of valuable information and experience which tells me do not be discouraged or afraid of challenges and changes, be hopeful, be empowered and always reach for the sky!
~Hang Yang, MFIN Student '19