For Employers
It's Our Business to Help Your Business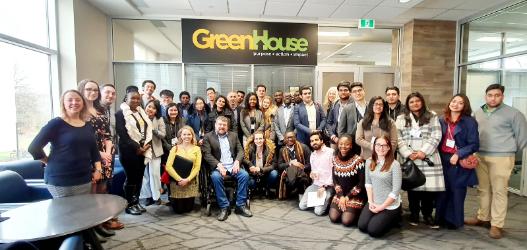 The Sobey School of Business Graduate Career Services office offers a full suite of services to employers who are looking to develop a relationship with the Sobey School of Business. As an employer, you can access our top talent, advertise your job posting on our Career360 Platform, participate in Corporate Tours, partner with us on internships (PDF) and much more.
Today's job market is tricky and competative. Finding the right person for your company can be difficult. By working with Graduate Career Services, we are here to help you find the right candidate for your company.
We can provide you with access to our exceptional Graduate Students by:
Coordinate and advertise job postings
Professional support & facilitation of the application and interview process.
Coordinate participation in Career Fairs
Provide opportunity for on campus activities such as Information Sessions and events.
Provide the opportunity to participate in Corporate Tours
Rich and meaningful interactions with our best and brightest
Help in navigating funding opportunities
For more information about any of the above services, please contact us.
For a downloadable resource of our program, please take a look at our Graduate Career Services - It's Our Business to Help Your Business.
Funding Options for Employers
For a downloadable resource of some potential funding options, please take a look at our Funding Options for Employers Updated May 2021 and our Funding Doc Infographic.
For updates on Federal and Provincial funding opportunities related to COVID-19, please visit the Halifax Chamber of Commerce.