News and Events
Congratulations to our 2023 Environment Prize winners Jacob Wisbey (BES) and Leah Reihl (ENVS).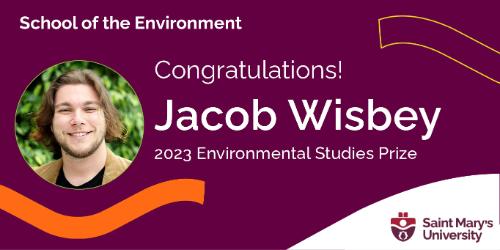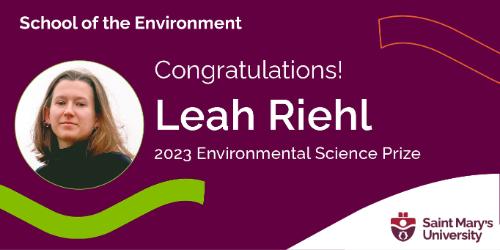 ---
Dr. Tony Charles hosted 'The New Kunming-Montreal Global Biodiversity Framework' in partnership with School of the Environment and the Community Conservation Research Network
Mr. Basile van Havre was Co-Chair for the Convention on Biological Diversity's Open-Ended Working Group tasked with the development of the Kunming-Montreal Global Biodiversity Framework. He has over 30 years of experience working in Canada's Environment Department. In addition to being Canada's CBD focal point, his roles over the years included both Director General of the Biodiversity Policy and Partnerships and Director of Population Conservation and Management at the Canadian Wildlife Service, Chair of the CITES Elephant working group and CBD Discussions on Indigenous Knowledge and Repatriation, Co-Chair of the International Joint Commission on Great Lakes Water Quality Board, and Director at the Meteorological Service of Canada.

Video: The New Kunming-Montreal Global Biodiversity Framework
---
Saint Mary's Earns the status of Fair Trade Campus
Thanks to the hard work of professors, such as Drs. Gavin Fridell and Kate Ervine, staff and students, Fairtrade Canada acknowledged Saint Mary's commitment. Saint Mary's is the 45th Canadian campus to join. Full story.
---
Congratulations to our 2022 Environment Prize winners Emily Snair (BES) and Lindsay Scott (ENVS).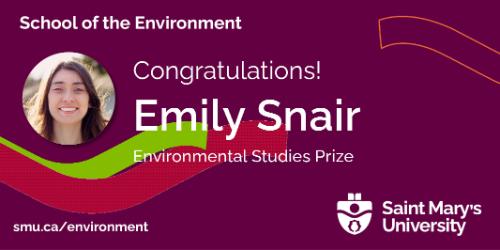 ---
Congratulations to our 2021 Environment Prize winners Shreetee Devi Appadu (BES) and Makadunyiswe Ngulube (ENVS).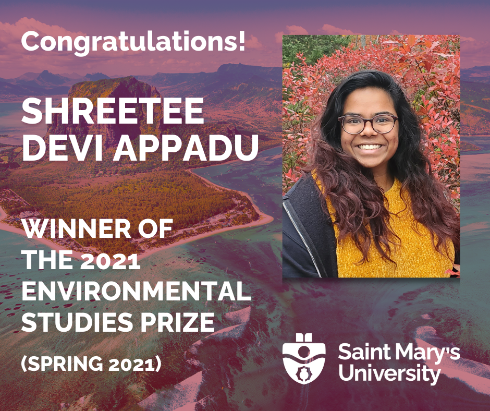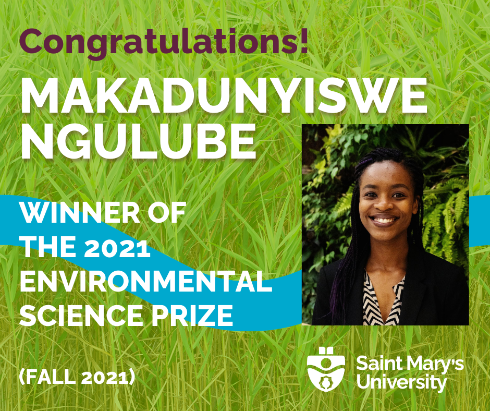 ---
Congratulations to our 2020 Environment Prize winners Victoria Hawkins (BES) and Meghan Fraser (ENVS).
---
Dr. Linda Campbell receives Human Rights Award for contributions to Accessibility Act
Environmental Science professor Dr. Linda Campbell and fellow members of the Bill 59 Community Alliance recently received a 2017 Nova Scotia Human Rights Award in recognition of their contributions to Bill 59, otherwise known as the Accessibility Act. See the full story!
---
Dr. Tony Charles publishes book: Governing the Coastal Commons: Communities, Resilience, and Transformation
Coastal communities depend on the marine environment for their livelihoods, but the common property nature of marine resources poses major challenges for the governance of such resources. Through detailed cases and consideration of broader global trends, this volume examines how coastal communities are adapting to environmental change, and the attributes of governance that foster deliberate transformations and help to build resilience of social and ecological systems.
Aquaponics research garners 3M Canada Award
---
School of the Environment
(902) 496-8213