News and Events
Exploring Mi'kmaw Landscapes
---
BSc-ENVS and BES students in their final year can apply for the Environment Prizes
Deadline to apply: April 11, 2022

You are eligible to apply for the annual Environmental Science (BSc) or Environmental Studies (BES) Prizes if you are in the final year of your program or have graduated in Fall 2021, or Winter 2022; have a strong GPA; and are involved with environmental initiatives on and off campus.
To Apply:
Send your application to environment@smu.ca
Indicate whether you are a BES or BSc student, and include a short note of your interest, your A-number and your SMU Co-curricular record or a short statement summarizing extracurricular activities.*
---
Congratulations to our 2022 Environment Prize winners Emily Snair (BES) and Lindsay Scott (ENVS).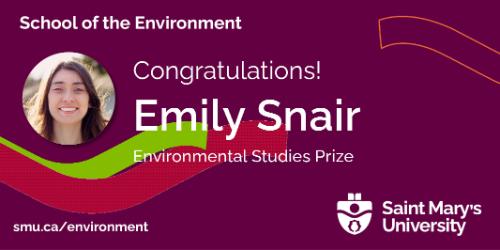 ---
Congratulations to our 2021 Environment Prize winners Shreetee Devi Appadu (BES) and Makadunyiswe Ngulube (ENVS).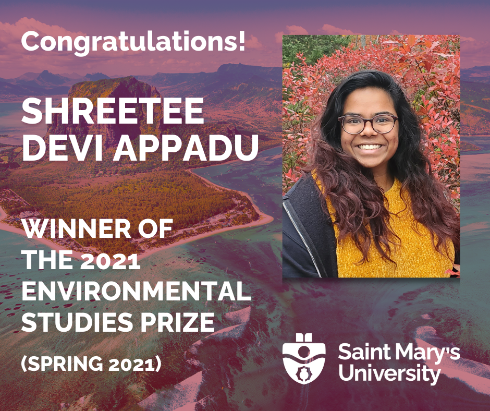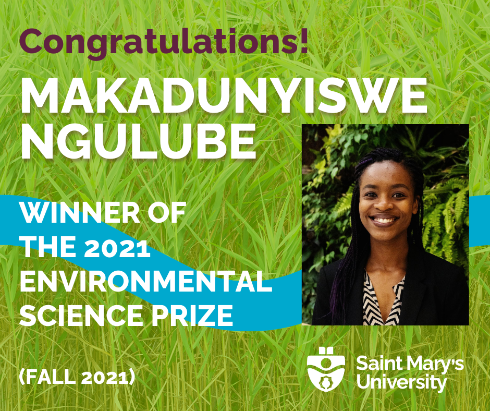 ---
Congratulations to our 2020 Environment Prize winners Victoria Hawkins (BES) and Meghan Fraser (ENVS).
---
Dr. Linda Campbell receives Human Rights Award for contributions to Accessibility Act
Environmental Science professor Dr. Linda Campbell and fellow members of the Bill 59 Community Alliance recently received a 2017 Nova Scotia Human Rights Award in recognition of their contributions to Bill 59, otherwise known as the Accessibility Act. See the full story!
---
Dr. Tony Charles publishes book: Governing the Coastal Commons: Communities, Resilience, and Transformation
Coastal communities depend on the marine environment for their livelihoods, but the common property nature of marine resources poses major challenges for the governance of such resources. Through detailed cases and consideration of broader global trends, this volume examines how coastal communities are adapting to environmental change, and the attributes of governance that foster deliberate transformations and help to build resilience of social and ecological systems.
Aquaponics research garners 3M Canada Award
---