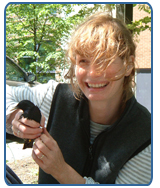 Colleen Barber Ph.D.
B.Sc. (Hons.) Guelph University
M.Sc. University of Manitoba
Ph.D. Queen's University
Professor, Department of Biology, Saint Mary's University
Profile
In my lab, we study mate choice, sexual selection, and parental investment in passerines, as well as avian conservation issues. Our main research goals are to examine reproductive strategies in different avian species, and relate them to levels of parental investment and mate quality.
Research Webpage (coming soon)