Department of Anthropology
Archaeological Field School in Cuba
The Saint Mary's University Department of Anthropology in partnership with the Cuban Cabinet of Archaeology will be continuing in May 2019 with an archaeological field school at Cafetal Angerona, a 19th century slave plantation site. This plantation is now a Cuban National Historic site.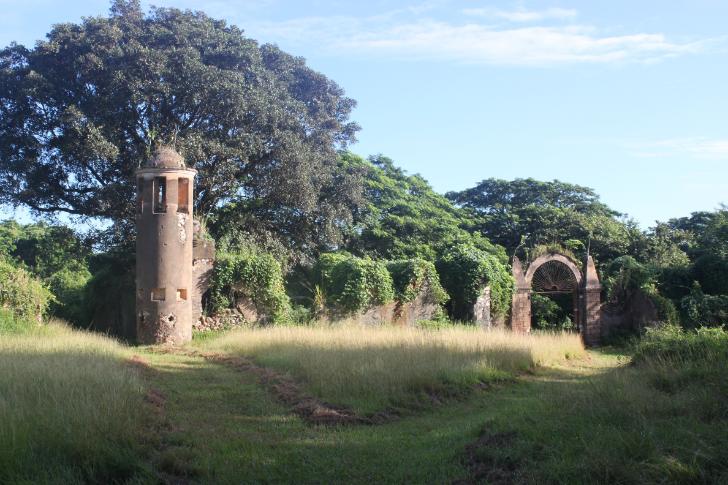 Cafetal Angerona Watch Tower and entrance to barracks.
This field school provides students with hands-on archaeological field experience immersed in the Cuban culture. Students live and work alongside fellow Canadian, International and Cuban students and Canadian and Cuban archaeologists.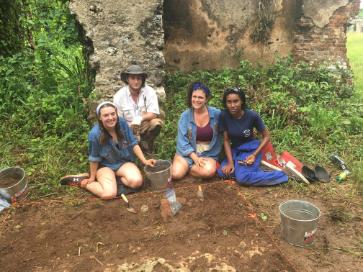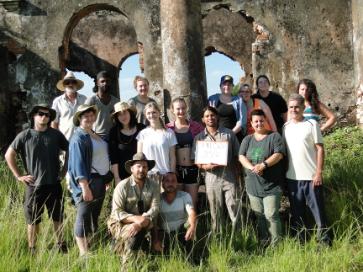 Students Lauren, Mackenzie and Cuban Student Lili hard at work 2017 Cuban Archaeological Field School
This season's goals are to continue with last year's excavations on the barracks area and will expand to include an investigation of the plantation's cemetery, including skeletal analysis should human remains be recovered.
Benefits
Learn basic archaeological methods and skills including excavation, interpretation, documentation and artefact processing.
Discover the history of Cuba and the Cafetal Angerona through lectures and tours.
Experience a different culture in an international setting.
Program information
6 Credit hours at 3000 level or 4000 level
ANTH 3710 Cuban Archaeology Field School
ANTH 3713 Cuban Archaeology Lab
ANTH 4710 Adv Cuban Arch Field School
ANTH 4713 Adv Cuban Arch Lab
Date: May 6 - 27, 2019
Location: Havana and Cafetal Angerona, Artemisa.
Time: 9am – 5pm Mon-Saturday
For more information, or to apply, please contact anthropology@smu.ca
Transportation
All transportation within Cuba has been arranged. Students are responsible for getting to and from Havana (all flights are direct from Toronto). Last year we travelled together as a group.
Accommodations
We will be staying with Cuban families (private rooms) in Havana and at the Hotel Moka in Las Terazzas (a beautiful natural biosphere in the mountains). www.hotelmoka-lasterrazas.com
Fees
Accommodations (including meals) and transportation within Cuba - $TBA.
A $500 non-refundable fee is payable upon confirmation you have been accepted into the program and will be deducted from program fee.
Visa Requirements
All participants must have a valid passport that is good until December 31, 2019 (Cuban customs require valid passports for a minimal of 6 months upon entering the country). Unfortunately at this time, American citizens cannot apply.
Field trips
Students will be given a guided tour of the old section of Havana (a UNESCO World Heritage site) where they can soak up this warm, vibrant culture. After a few days in Havana we will leave the bustling city for the peaceful, lush mountains located approximately 40 minutes outside Havana. While not on site, students can take advantage of the beautiful swimming pool, nature hikes or just lay back and enjoy the spectacular scenery. There will also be opportunities to trek deep into the jungle to visit long forgotten plantation sites, go bird watching, learn salsa dancing or take a day trip to the beach.
Application Process
Interested students will be required to provide one academic reference and must be presently enrolled at a university at either the undergraduate or graduate level. Unfortunately, due to United States government restrictions American citizens are presently not allowed to participate. Deadline to apply is March 22st 2019. Once all applications are received successful applicants will be contacted. A waiting list will be created for students not accepted to the program in case of cancellation.