Stewart Galloway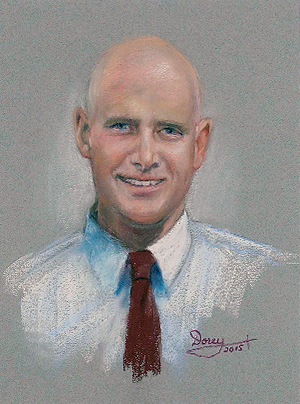 Inducted in 2015
Category: Builder
He is a full time, highly successful financial advisor and was a part time soccer coach, also highly successful. That is part of the Stewart Galloway story. He replaced Peter Wicha who was head coach in 1992 (who preceded the Huskies first coach Roy Clements). The third coach in SMU history played the university game at UNB and finished his playing days with the N.S. Clippers in the CSL.
22 years behind the Huskies' bench would produce 159 regular season wins, 7 AUS titles and 5 trips to the National finals where the Huskies returned with 3 silver and 2 bronze medals.
In 2000 SMU lost to Laurier in the National final in the 6th round of penalties. A year later the Huskies would go undefeated and still miss out on the gold medal when they tied Laurier, but the Ontario school advanced with more goals. Another heartbreaker came in 2003 when SMU lost to the University of Alberta who had a golden goal in overtime.
19 of Galloway's players would achieve All-Canadian status and Mesut Mert was a two time winner of the outstanding player of the year. Galloway was a 6 time AUS Coach of the Year and in 1994 and again in 2001 he was named the CIS Coach of the Year.
The keys to success according to a 5 year player and 4 year assistant coach Mike Locke: "He knew his players and genuinely cared". Stewart was the kind of coach who was very adaptable and constantly had his finger on the pulse. He created an environment where the Huskies were always ready to play.
Galloway's won/loss record is impressive by any measurement but his legacy at SMU might be the high number of former players who are now coaching across the country, giving back to the "Beautiful Game".
Portrait Artist: Barb Dorey
Portrait Art Photographer: Shannon Doane
← Previous InducteeNext Inductee →