Burke-Gaffney Observatory
The Observatory of the Department of Astronomy and Physics at Saint Mary's University, Halifax, Nova Scotia, Canada
The observatory is named in honour of Reverend M. W. Burke-Gaffney , S. J (1896-1979). It is located on the top of the 22-storey Loyola residence tower, and was made possible by an anonymous benefactor who wished to honour Saint Mary's University's well-loved astronomer.
The main instrument is an Ealing 41cm diameter Cassegrain reflecting telescope. It is motor driven to compensate for the rotation of the Earth and has a computer-controlled positioning system. Once an object is located, it can be guided accurately during long time-exposure images. Because it is located within the City of Halifax, it is primary used for teaching, public tours, and modest research projects including studying the nature of the aging processes in variable stars, searching for extra-galactic supernovae, and charting the orbits of asteroids in our solar system.
In addition to visual observations, several instruments are commonly used with the telescope. These include an ST6 and ST8 CCD electronic imaging cameras, 35mm cameras, and two spectrographs. White-light and Hydrogen-alpha solar filters are used to observe and photograph the Sun.
The observatory also owns portable 9cm and 20cm telescopes.
41cm Telescope Facts (Cassegrain Focus)
| | |
| --- | --- |
| Latitude | 44d 37' 50" N |
| Longitude | 63d 34' 52" W |
| Altitude | 91 metres |
| Aperature | 40.7 cm |
| Focal Length | 4780 mm |
| Focal Ratio | 11.75 |
| Theoretical Resolution | about 0.3 arc-seconds |
| Max. Theoretical Magnification | about 800x |
| Max. Practical Magnification | about 400x |
| Light Grasp | about 2000 x human eye |
| Limiting Visual Magnitude | about 15.7 (no light pollution) |
Reverend M. W. Burke-Gaffney, S. J.
Father Burke-Gaffney received his Ph.D. from Georgetown University in Washington, D.C., and taught for many years in Toronto and Winnipeg before coming to Halifax in 1940. At Saint Mary's he held the position of Dean of Engineering, and later, Dean of Science. The Nova Scotia Technical College conferred the honorary degree of Doctor of Engineering on Father Burke-Gaffney in 1955, in recognition of his great contribution to the students of Nova Scotia. His contribution to astronomy was emphasized by his long time membership in the American Astronomical Society, the International Astronomical Union, and the International Academy of the History of Science. In honour of his 25 years of service to Saint Mary's University, the Board of Governors in 1965 conferred upon Father Burke-Gaffney the title of Professor Emeritus.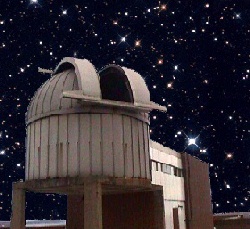 Contact Information
Burke-Gaffney Observatory
Department of Astronomy and Physics
Saint Mary's University
Halifax, Nova Scotia
B3H 3C3 Canada
Info Line: 902-496-8257
Office Phone: 902-420-5633
Fax: 902-420-5141
E-Mail: David J. Lane, Director (dlane (at) ap.smu.ca)
Burke-Gaffney Observatory - Tours
Public Tours
Full updated information about our public tours is always available on our information line (496-8257) .
Free public tours of the Burke-Gaffney Observatory are held, weather permitting, on the 2nd and 4th Friday of each month, except from June through September when they are held every Friday. Tours begin at 7pm between November 1 and March 30 and at either 9pm or 10pm (depending on when it gets dark) between April 1 and October 31. Meet the tour in the lobby (near the Goresbrook Ave entrance) of the Loyola Residence Building. On clear evenings, the 40-cm telescope is used to view the planets, the Moon, or other interesting celestial objects.
There will be no tour on cloudy or rainy nights. Always call the information line (496-8257) after 6pm to find out if the tour is on or off.
Group Tours
Free tours of the Burke-Gaffney Observatory are available to organized groups of from 12 to 35 people or school classes on Monday evenings (and limited day bookings). Smaller groups are asked to attend a Saturday Public Tour . Group tours consist of a 45 minute slide show titled: either "Tour of the Universe" or "Tour of the Solar System" (adjusted to suit the group) followed by a visit to the observatory. On clear evenings, the 41-cm telescope is used to view the planets, the Moon, or other interesting celestial objects. On cloudy evenings, the operation of the observatory's telescope (and telescopes in general) is explained.
The tour lasts about 1.5 hours and is held whether or not the skies are clear. Tours are booked, usually weeks or months in advance, by calling David Lane at 420-5633.
Observatory staff are also available for a limited number of daytime tours or can travel to your group or school to present astronomy presentations.
Burke-Gaffney Observatory - Research
A supernova in the galaxy NGC 2726 (in Ursa Major) was discovered by the RASC Halifax Centre and Saint Mary's Astronomy and Physics at the Burke-Gaffney Observatory!
The discovery image of SN 1995F


The discovery ST6-CCD image (negative) of SN1995F in NGC 2726, taken by David Lane, Paul Gray, and Beverly Miskolczi of Saint Mary's University and the Halifax Centre, Royal Astronomical Society of Canada on the evening of February 10, 1995. The supernova is the dark spot near the centre of the galaxy. It's discovery magnitude was about 15 and was too faint to observe visually through all but the most gigantic amateur telescopes.
IAU Circular on Supernova 1995F in NGC 2726
D. J. Lane and P. Gray, Burke-Gaffney Observatory, Saint Mary's University, report their discovery via CCD on Feb. 10-11 of a supernova located about 2" east and 1" south of the center of NGC 2726 (R.A. = 9h04m.9, Decl. = +59o56', equinox 2000.0). An unfiltered frame on Feb. 14.042 UT showed the object at mag 14.7. A foreground star of mag 14.9 is located 19".6 west and 14".9 south of SN 1995F. A. V. Filippenko and A. J. Barth, University of California at Berkeley, report that preliminary inspection of uncalibrated CCD spectra (range 310-1050 nm, resolution 0.7-1.5 nm) obtained on Feb. 24 with the 3-m Shane reflector at Lick Observatory confirms that this object is a supernova, most likely of type Ic (but possibly Ib), roughly 2-3 weeks past maximum brightness.
Press Release
Contacts: David Lane , Obs. Technician, (902) 420-5633
The Burke-Gaffney Observatory has joined a select worldwide group of astronomical observatories by discovering an exploding star in a galaxy known as NGC 2726. The discovery was made on the evening of February 10 by amateur astronomers Paul Gray, David Lane and M.Sc. student Beverly Werstiuk using an electronic CCD camera on the Observatory's 40-cm reflector, and confirmed on February 24th by observations taken at Lick Observatory in California. Both Paul and David are active members of the Halifax Centre of the Royal Astronomical Society of Canada, and Dave is also employed by Saint Mary's as Observatory Technician. The supernova is officially designated 1995F, since it is the 6th one discovered so far this year.
Known as supernovas, these stellar explosions signal the violent deaths of stars several times more massive than our sun. Supernovas are interesting to astronomers because they manufacture most of the chemical elements that went into making the earth and other planets, and also because distant supernovas can be used to estimate the size and age of our universe.
Supernovas are rare events; the last one in our galaxy occurred several hundred years ago, before the invention of the telescope. The odds of discovery can be increased by repeatedly checking many other galaxies. A new supernova reveals itself as a bright point of light that wasn't there the last time the galaxy was checked. Since a supernova can outshine millions of ordinary stars it is easy to spot with a modest telescope, even in a galaxy like NGC 2726 which is about 70 million light-years away. Despite the importance of supernova studies, only a few observatories around the world spend time searching for supernovas. The reason: examining hundreds of galaxies takes lots of time from other observing projects, and the chance of making a discovery is still small. An intense but friendly competition has developed among these few observatories to be first to discover a new supernova. The present discovery is remarkable because the Burke-Gaffney program is only a five months old. It comes just a few days before narrowly missing the discovery of another supernova in the galaxy NGC 2441 (1995E).
Team SUPERNova Scotia
The supernova search team is currently inactive.
Burke-Gaffney Observatory - Night Sky Information
Astronomical Information

Contact Information
Burke-Gaffney Observatory
Department of Astronomy and Physics
Saint Mary's University
Halifax, Nova Scotia
B3H 3C3 Canada
Info Line: 902-496-8257
Office Phone: 902-420-5633
Fax: 902-420-5141
E-Mail: David J. Lane, Technician (dlane (at) ap.smu.ca)