Innovation Grant Supports Clean Trace-Metal Environmental Analytical Lab
5 June, 2013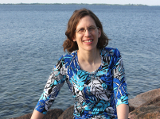 Many people associate mercury contamination with ocean fish like bluefin tuna, but mercury also affects inland, freshwater aquatic ecosystems. And alarmingly, yellow perch and common loons from some areas of Nova Scotia have among the highest recorded levels of mercury in North America.
"Mercury is a global issue, but understanding its impacts—including the risk to wildlife and human ecosystem health—needs to start at the local level," says Dr. Linda Campbell, environmental scientist at Saint Mary's University. "The first step is to accurately measure and map trace elements in the environment so that decision makers will have concrete information about the environment."
Thanks to a $122,000 Canada Foundation for Innovation Leaders' Opportunity Fund grant announced today, Dr. Campbell's research lab can now conduct this important work. The grant funds Saint Mary's Clean Trace-Metal Environmental Analytical Laboratory (CTEAL), an integrated laboratory system for the preparation and analysis of environmental samples for trace-level mercury and metal contaminants. The "clean-room" infrastructure within this laboratory allows very small samples to be analyzed with significantly reduced risk of external contamination.
The CTEAL supports Dr. Campbell's major research projects, including an exploration of the effects of various environmental parameters on mercury cycling and biogeochemistry. Funded by the Natural Sciences and Engineering Research Council of Canada (NSERC) Discovery Grant, this important project examines the ecosystem health of fish, fish-eating wildlife, and ultimately, humans who consume these species.
A second, collaborative project with Saint Mary's biologist Dr. Hugh Broders will be the first to study mercury in three species of at-risk bats in Atlantic Canada. Funded by Environment Canada, the project investigates the potential impact of accumulated mercury on bat populations impacted by white nose fungus disease, which kills a significant number of bats every year.
Over the course of the next few months, Dr. Campbell's research team will collect data on water samples from lakes and wetlands across Nova Scotia, and tissue samples from fish and bats across Atlantic Canada. The data generated from analyzing these samples will address significant a knowledge gap regarding mercury concentrations in Nova Scotia lakes and species.
"To adequately understand where we are going, it is essential that we have data on where we are," says Dr. Campbell. "The CTEAL will help establish crucial benchmarks related to mercury in Nova Scotia's environments."
The Honourable Gary Goodyear, Minister of State for Science and Technology, made the announcement as part of a $47.7 million investment in cutting-edge research equipment, laboratories and tools that will help Canadian post-secondary institutions attract talented researchers and build a more innovative Canadian economy.
"Our Government's investments in research infrastructure provide top researchers at Canadian universities with world-class facilities" said Minister of State Goodyear. "Canadians are seeing the benefits of these investments through growing clusters of industrial activity, innovative spinoff companies and high-quality jobs in the growing knowledge sector."